This Week's Speaker


Robert Hall, Vice Chair of the End Polio Now Countdown to History Committee

Join us today to welcome our own Robert Hall, Past Director, Rotary International, as he updates us on where Rotary stands in our fight to End Polio. You may join in person at LeMeridien or via Zoom at https://us02web.zoom.us/j/86202979419 Note that we will be meeting in a new place at LeMeridien - the Grand Salon on the Lobby Level.
Robert led the Rotary Club of Dunwoody as our President in 1995-96 and District 6900 as District Governor in 2001-02. He led a National Immunization Day (NID) team to India in 2006 (pictured here) and has served on the End Polio Now Committee - and currently as Vice Chair of the End Polio Now Countdown to History Committee. [read more]
GRSP Leadership Weekend


Join in This Weekend's Fun!
It's not too late to check in with Ron or Louise Barden about how you can be involved with this weekend's GRSP Leadership Conference. And feel welcome to just come and watch part of the weekend unfold. Check out the attached agenda- running March 4-6. Check out the agenda.
[read more]
Wine Fellowship and Thirsty Thursday


It's Your Lucky Day: Wine Fellowship Meets St. Patrick's Day at the Holliday's Home

Plan now to join us March 17 at the home of Ed and Judy Holliday for a "charming" wine fellowship. More details in next week's bulletin.
District Conference Update


Register Now for a Jolly Holiday with Mary at District Conference!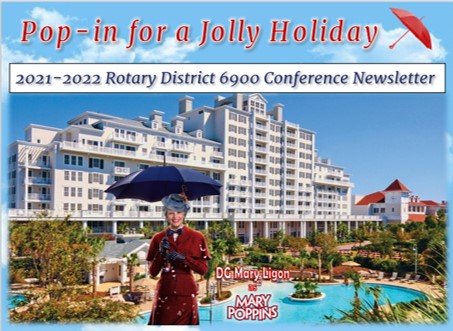 Join District 6900 from April 28 to May 1 for a Jolly Holiday with DG Mary "Poppins" Ligon in Sandestin! Enjoy our entertainment and the great meals we have planned. Dress up in your best Mary Poppins gear to laugh and have fun at the Thursday Evening ticketed event - Poppins Pony Prix followed by a Progressive Dinner in the Hospitality Suites for all ticket holders. See the attached Conference Newsletter for more details. Our Dunwoody Family of Rotary always has a BIG presence at District Conference and this year will be no exception.
Rotarians may register now by going to www.Rotary6900.org site, be sure to use your log-in to the website so we capture your name for registration, then select the green or the gold tab that will direct you to Conference registration, Room Reservations and all the detail a Practically Perfect Rotarian could want ... Register Now!!