Meetings
April is Maternal and Child Health Month
Our Rotary Family


BIRTHDAYS
| | |
| --- | --- |
| 4/5 | Jim Riticher |
| 4/9 | Kathy Brandt |
| 4/13 | William Grogan |
| 4/16 | Jennie Springer |
| 4/29 | Lawrence Domenico |
WEDDING ANNIVERSARIES
| | |
| --- | --- |
| 4/1 | John Mills (33) |
| 4/3 | Pavittar Safir (14) |
| 4/7 | Cathie Brumfield (38) |
| 4/23 | Roy Ethridge (14) |
| 4/28 | Rick Otness (14) |
Rotary Online
https://dunwoodyrotary.org
https://rotary6900.org/
https://rotary.org/
ROTARY CLUB OF

Dunwoody

Fridays, 7:15 am
Le Méridien Atlanta Perimeter
111 Perimeter Center West
Atlanta, GA , GA 30346
LEADERSHIP
This Week's Speaker


Nancy Longacre, Executive Director, Dunwoody Nature Center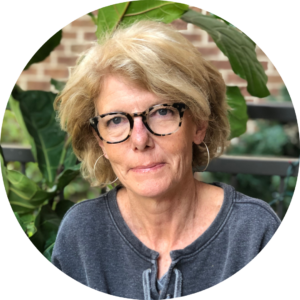 Join us this Friday to welcome Nancy Longacre, Executive Director of the Dunwoody Nature Center. You may join us live at LeMeridien or on Zoom at https://us02web.zoom.us/j/86202979419
Nancy joined the Nature Center in August 2021 as the Executive Director. She has a B.A. in psychology from Rutgers University. Nancy started her career in corporate marketing before transitioning to nonprofit management. She has held leadership positions at several non-profits in Metro Atlanta. Nancy loves spending her free time hiking, traveling, being in nature and enjoying everything Metro Atlanta has to offer with family and friends.
As most of you know, the Rotary Club of Dunwoody has supported the Dunwoody Nature Center for many years, and is currently working on the "Save the Ferns" and old growth forest initiative under Cathie Brumfield's leadership.


Fellowship and Service


Dunwoody Diners Support Ukraine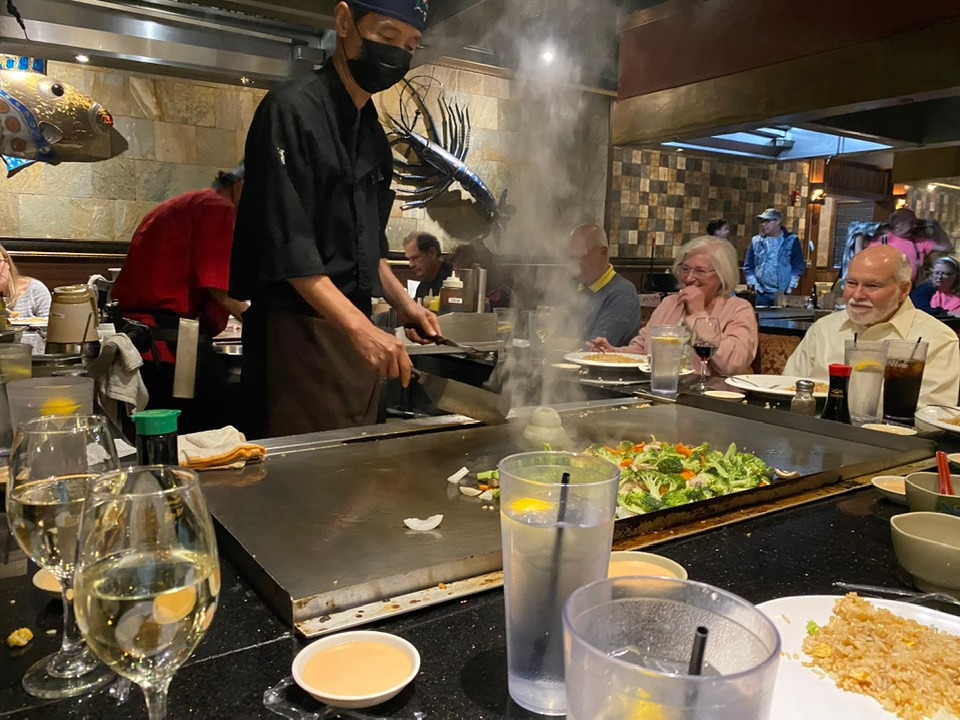 When 15 of the Dunwoody Diners gathered for dinner at Aomi last Saturday, they combined service with pleasure. The skills of the chefs (Japanese Hibachi style cooking) was both a visual delight and a culinary success. At the same time, the group initiated a fundraising effort for the Rotary Ukraine Disaster Relief Fund. The group hopes the rest of the Club will also want to participated. Ken Levy gave a very inspiring speech about the need for humanitarian relief for the victims in Ukraine. His speech raised more than $450. Of particular note, a family sitting nearby contributed $40 based on hearing Ken's appeal.
If you want to join in this effort, please bring either your check or a credit card to the meeting this Friday, April 8. If writing a check please make it out to the Dunwoody Rotary Charitable Fund and write "Rotary Ukraine Disaster Relief Fund" in the notation section. Give any checks to either Ken Levy or Rick Otness.
Opportunity to Celebrate


Celebrate Dottie Toney as a Legend of Education!

Dottie Toney has been nominated and selected to receive a Legend of Education award being bestowed by the Rotary Club of Stone Mountain. Dottie will be presented with this award at Stone Mountain's inaugural Celebrating Champions of Education annual fundraiser. It will be held on Saturday, April 16, 2022 at the Conference Center at Georgia Piedmont Technical College, located at 495 N. Indian Creek Drive in Clarkston, GA. Our VIP reception begins at 3:00 p.m. and the program begins at 4:00 p.m. Read on for more information about the event and how you can order tickets - note ticket deadline is this Friday, April 8.
[read more]
Service Opportunity


Join Us at the Dunwoody Arts Festival May 6-8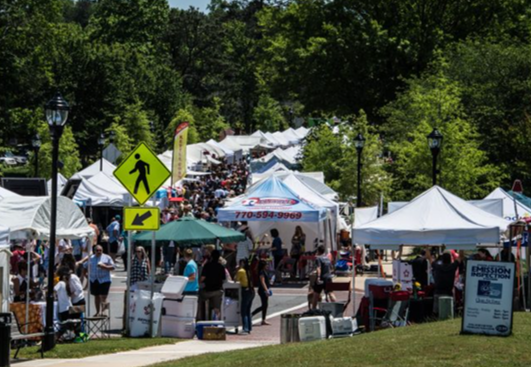 This Mother's Day Weekend ... May 6-8 ... come and help as we support the Dunwoody Arts Festival by assisting with artist check-in and host a booth of our own that helps us tell our story to the community and prospective new members. Our support for this significant community event will be instrumental in the event's success.
We need a few additional volunteers for Saturday morning artist check-in. Please contact Kathy Brandt if you are willing to help. If you are helping with Artist Check-in, please send Kathy your T-shirt size.
Please help spread the word. Invite Rotarians, friends, family, co-workers and/or prospective members to join us. This event is truly a significant event. It is fun. It is a great opportunity to experience "Rotary in the Community and In Action" And, our volunteer service really is appreciated by artists and festival organizers, who give us public recognition for our volunteer effort along with a complimentary, well-located exhibit space.
We need additional volunteers to help staff the Dunwoody booth on Saturday and Sunday. For additional sign-ups, please send Kathy name and contact information.
We can handle as many Rotarians and Friends of Rotary as we can identify.
Thanks for Your Service


Rotary Bounds Garden Sprucetanza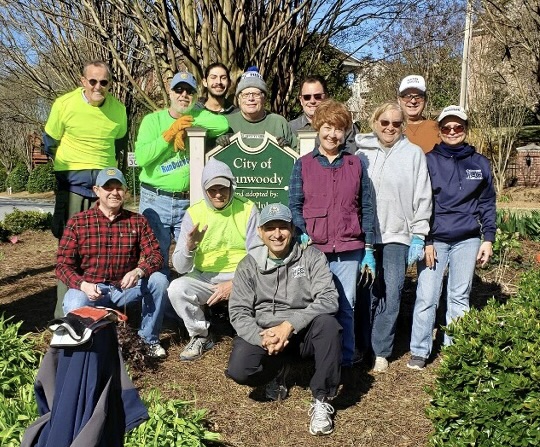 We've all heard about Bounds Garden, the traffic island across from the Dunwoody Library. A week ago Saturday, the place drew a crowd of Dunwoody Rotarians who made quick work of sprucing up the Garden. Thanks to all, and especially to "Ranger" Fred Bounds for leading our efforts.