This Week's Speaker


William Baker, Senior General Manager, Perimeter Mall ... in Person and via Zoom
Join the Rotary Club of Dunwoody this Friday at the Dunwoody Country Club at 7:15 am or grab your coffee or tea and join us on Zoom at 7:15 am to hear from William Baker, Senior General Manager of the Perimeter Mall, who will talk about how COVID-19 and working remotely has affected local operations and how the industry is reinventing business. To join by Zoom, follow this link - https://us02web.zoom.us/j/86202979419.
[more]
From Our Club President


Making a Difference, Having Fun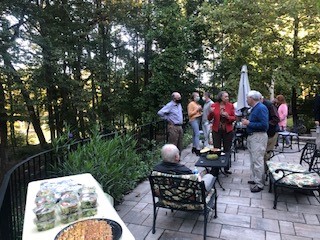 Last week, we were pleased to host the second part of our annual District Governor visit - with the Board of Directors welcoming DG Kirk to the home of Past President Cathie Brumfield. We had a beautiful evening outdoors (as the photo shows) - and thank Cathie for her hospitality and Ed Holliday for coordinating the event with Cathie. You could consider it a preview of our upcoming Thirsty Thursday event - next Thursday (Oct. 15) outside at the Brumfields - weather permitting. Read further in this newsletter for more about that.
We also had an amazing speaker last week - RI Director and Executive Committee member Peter Kyle, who shared stories of Rotary and its work toward building world peace and addressing important issues across the globe. Past President Rick Woods commented in Zoom chat that "he should write a book about this; it's fascinating" and several others jumped in to agree. It reminds us once again of the important ways we can make a difference as Rotarians, which leads me to some reminders about our efforts to support this community:
This Saturday, October 10 - weather permitting - we will be working at the Dunwoody Nature Center from 9 am to noon - go online to the DNC website to sign up as a volunteer and join us for fun and community service
We will definitely be supporting Toys for Tots again this year at our annual holiday luncheon - so keep that in mind when you're shopping
We have been asked to help again with Thanksgiving baskets for Kingsley Elementary's needy families - watch for more over the next few weeks
Keep looking and listening for opportunities to make a difference and share them with us!
On the subject of FUN. I already mention that Thirsty Thursday will take place Oct. 15. You should also mark your calendars for Friday, December 11, when we will hold our annual Holiday Luncheon at the Dunwoody Country Club.
And one final subject, as we strive to make a difference and take time to have fun, think about taking time to help the club grow. Think about a neighbor, work colleague and/or friend who would like to be part of this amazing organization we call Rotary.
Hope to see you Friday! Bring a friend!
Save the Date


Holiday Luncheon - December 11, Dunwoody Country Club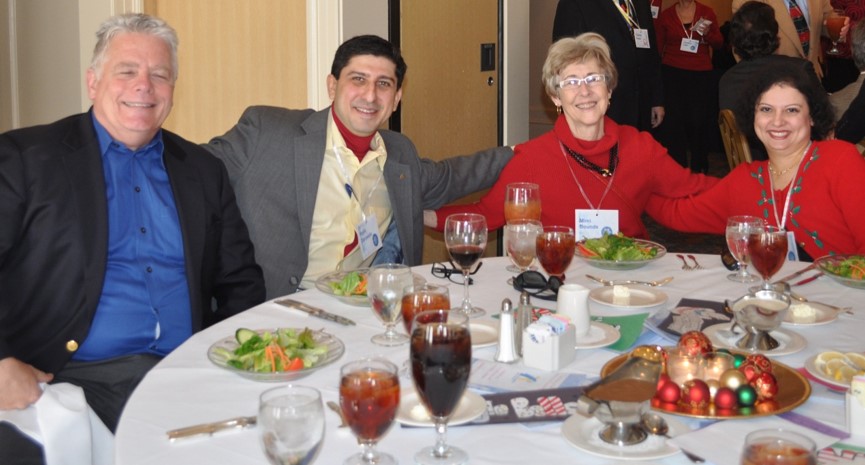 Mark your calendars now for the annual Holiday Luncheon at the Dunwoody Country Club - this year on Friday, December 11. It's a great time to connect with our Dunwoody Rotary Family. Pictured here: Fred and Mimi Bounds with Hoshi and Baku Daruwalla from the holiday luncheon in 2011.
We'll be collecting toys for Toys for Tots - as we have for many years!
Watch for more about the event as it gets closer. And mark your calendar today!
Member Spotlight


What We Learned About Ed Holliday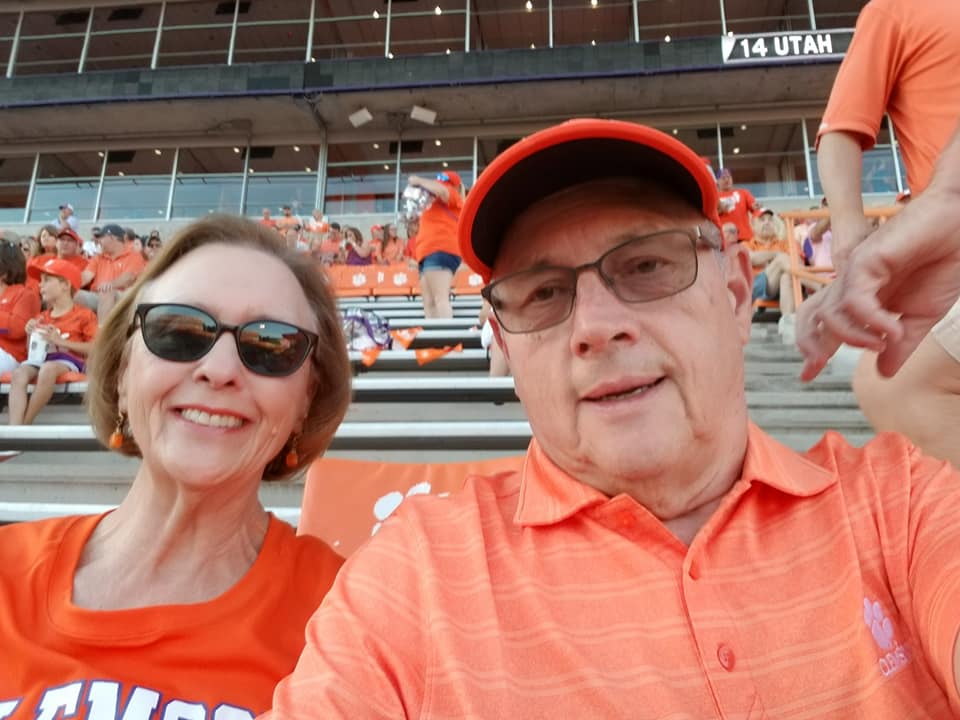 Last week, Ed Holliday shared a little about himself with the club.
Ed grew up in Clemson, South Carolina. His ancestors lived in upstate South Carolina before Clemson was established, so he had deep roots in the old south. While in high school, he saw the first African American student, Harvey Gantt, enroll in Clemson uneventfully and the first two African American students enroll in Daniel High. "I came to have a different perspective on these events."
He attended Clemson University, earning a Bachelors degree in History & secondary education. He then earned a Masters Degree from UGA, taking time off for basic training for Clemson US Army Reserve. He began his career in 1971 at Greenville High School and spent the first third of his career as a high school teacher and assistant principal. He then got elementary certification and transferred as assistant principal to a suburban school. In 1993 he became principal of Stone Elementary in downtown Greenville. Throughout his career, he had two major goals - to promote racial harmony and innovative teaching.
Ed joined North Greenville Rotary at the invitation of the superintendent who was a member. "I joined because the club was doing multi-year landscape projects on the school campus. I stayed because I had the opportunity to participate in community service, meet people from other professionals and market my school."
Stone Elementary was an under-enrolled inner-city school the district had tried to close three times because of declining test scores, enrollment and aging facility, but the community fought to keep it open. During his second year he had the opportunity to propose an arts magnet theme. During his 23-year tenure he led it to one of the premiere schools in South Carolina and a model school for arts-integrated curriculum. "My career, like Rotary was about 'having fun doing good.'"
In 2016 Ed retired and moved to Dunwoody to be near his grandchildren. "I joined Rotary Club of Dunwoody to get to know my new community and continue serving others."